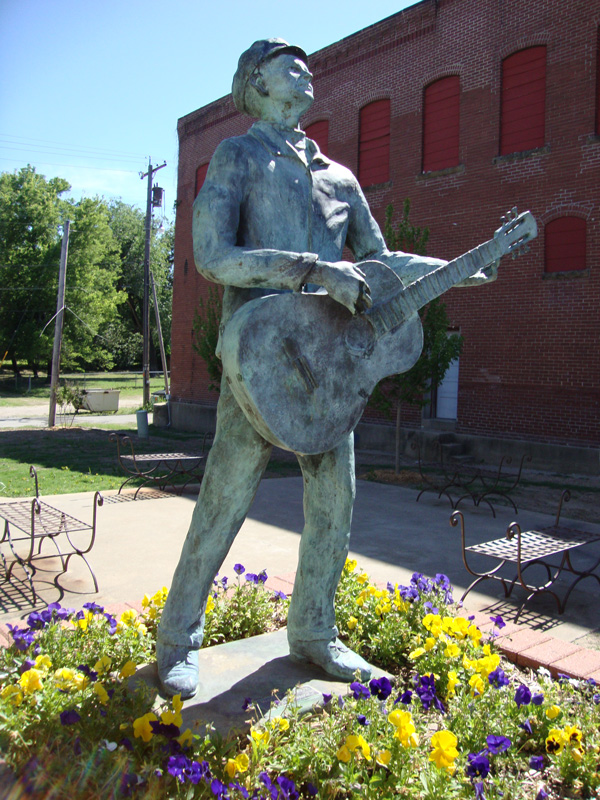 If you need help finding a book, please ask! Looking for a new author? Ask for suggestions. New books are in the bookcase by the front door. We also have books for sale. Enjoy your visit!
Our History
The story of the Okemah Public Library began in 1927 when local organizations and citizens began organizing a committee and board, collecting furniture, books and rent to establish a library. Temporary space was found in a gift shop and on April 9, 1927 the Business and Professional Women's Club held an open house to introduce the library to the public.
In May, 1927 Okemah Public Library's first librarian, Mary Hudson, took charge. Five months after opening, the library was moved into a city-owned building and in 1937 a new library was constructed under the Workers Progress Administration. An addition was added to the library in the 1960's.
Okemah Public Library is still located in this historic rock building. The library is located by scenic Noble Park with the WPA canal and is one block from Okemah's middle school. Unique to our library are the two original stone fireplaces that lend a quaint charm to the library's interior.
Woody's Story
He was a passionate reader who wrote his interpretations, reactions, and beliefs in the margins of the books he read. From the Okemah Public Library to the New York Public Library, wherever he went, he obtained books to read."  – Oklahoma Historical Society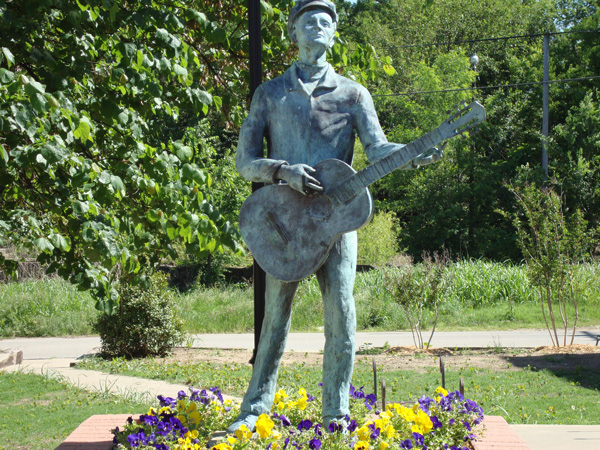 Okemah is the home of Woodrow Wilson "Woody" Guthrie (July 14, 1912 – October 3, 1967).
His birthplace was located one block east of the rock building that has been the home of the Okemah Public Library since 1937. Woody Guthrie's portrait hangs over the mantle of the fireplace in the adult reading area.
The Okemah Library also owns materials relating to Woody that were donated to it over the years, including books, albums and his high school yearbook which are currently on loan and displayed to the Okfuskee County History Center.
On October 5, 2001, Friends of the Libraries in Oklahoma (FOLIO), designated Okemah as a Literary Landmark in honor of Woody Guthrie. The plaque reads "Friends of Libraries USA, Literary Landmarks Register – Okemah, Oklahoma, nestled in the Oklahoma Hills and the birthplace on July 24, 1912 of Woody Guthrie the renowned poet and folk singer.
The hometown that influenced songs such as the American Classic This Land is Your Land and scores of other songs, poems, and books including his autobiographical novel Bound for Glory, is designated a Literary Landmark by Friends of Libraries U.S.A."
Woody Guthrie was the first Literary Landmark in Oklahoma.