The Hon. David N. Martin has been an Associate District Judge in Okfuskee County since 1990.  As a friend of the library he occasionally reads and reviews our new books.  Below is Judge Martin's review of The Last Ranch by Michael McGarrity.
The Last Ranch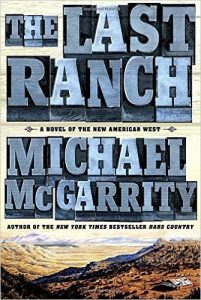 The last of the trilogy by Michael McGarrity is titled The Last Ranch.  Readers of the first two novels will not be disappointed, although the story line bogged down 3/4 of the way through.  The 520 page novel about the Kerney family ranch in New Mexico is definitely worth the effort.  The novel picks up with Matt Kerney as the hardworking rancher battling drought, bad hombres, and the U.S. Government to keep the ranch together and pay the bills.
Patrick Kerney assumes less and less of a role in the day-to-day operation of the ranch and eventually retires to the rocking chair on the sweeping veranda.  Matt survives the Sicilian invasion in World War II and is decorated for bravery and rewarded for the loss of his eye with an early trip home from the war.  Thereafter, he woos several charming women.  You have to read the book to finally learn who he weds and keeps the ranching legacy alive.
Enter Kevin Kerney, Matt's son, on the scene.  Kevin becomes a rodeo star and falls in and out of love a number of times.  The novel ends when Kevin is a 2nd Lieutenant in Vietnam.  I have to admit I feared he would be KIA like his uncle C.J., but thankfully the author did not kill off an interesting character.  Perhaps the author left us hanging so there would be enough unanswered questions to write a fourth book?  Perhaps the author decided if there could be six Rocky movies why not six Kerney novels?
All in all this is an enjoyable read.  The book has been published long enough that it is off the rental shelf.  The entire series is available on the main shelves.  Spend a cozy weekend curled up enjoying The Last Ranch, and wait for the sequel if you like it.
Happy reading!
Judge Martin